Privacy and Libel Law: The Clash with Press Freedom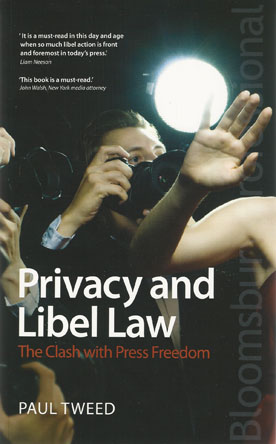 ISBN13: 9781847669025
Published: February 2012
Publisher: Bloomsbury Professional
Country of Publication: UK
Format: Paperback
Price: £30.00

This new title covers the law surrounding freedom of express versus rights of the individual, including in depth analysis of the review of UK libel law and the draft Defamation Bill published in March 2011.
Examines the need to protect personal reputation/privacy while at the same time safeguarding genuine investigative journalism
Assesses whether the UK's privacy/libel laws are sufficient to control the excesses of the press (such as phone tapping)
Seeks to explain why the press is so hostile to UK media laws
Analyses why celebrities choose to sue for libel in London rather than New York
As a lawyer with an international practice comprising of US and UK clients, I welcome this book. From Phone Hacking to Wikileaks, many of the current global media scandals have emanated from the UK. There is no one with the experience, knowledge and insight of Paul Tweed to better explain the impact of these cases and the similarity and differences of Media (including Privacy and Libel) Law in the US and UK.
This book is a valuable resource for lawyers and law schools in both countries. Importantly, it will also make compelling reading for anyone who has an interest in current and breaking media stories and issues.
Paul Wright, President of the British American Business Council (Los Angeles) and Chairman of the Malibu Bar Association, 2012