A Constitutional Order of States? Essays in Honour of Alan Dashwood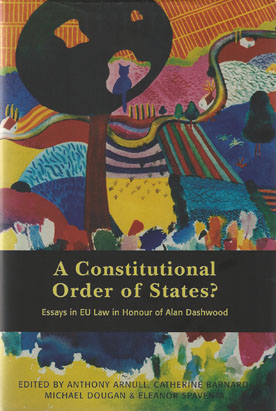 ISBN13: 9781849460460
Published: March 2011
Publisher: Hart Publishing
Country of Publication: UK
Format: Hardback
Price: £100.00

This collection celebrates the career of Professor Alan Dashwood, a leading member of the generation of British academics who organised, explained and analysed what we now call European Union law for the benefit of lawyers trained in the common law tradition. It takes as its starting point Professor Dashwood's vivid description of the European Union as a 'constitutional order of states'. He intended that phrase to capture the unique character of the Union.
On the one hand, it is a supranational order characterised by its own distinctive institutional dynamics and an unprecedented level of cohesion among, and penetration into, the national legal systems. On the other hand, it remains an organisation of derived powers, the Member States retaining their character as sovereign entities under international law.
This theme permeates both the constitutional and the substantive law of the Union. Contributors to the collection include members of the judiciary and distinguished practitioners, officials and academics. They consider the foundations, strengths, implications and shortcomings of this conceptual framework in various fields of EU law and policy. The collection is an essential purchase for anyone interested in the constitutional framework of the contemporary European Union.