Habitats Directive: A Developer's Obstacle Course?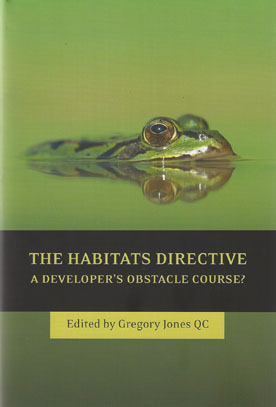 ISBN13: 9781849462938
Published: November 2012
Publisher: Hart Publishing
Country of Publication: UK
Format: Hardback
Price: £90.00

The Habitats Directive: Current Legal Issues brings together a unique combination of leading academics and practitioners in the field of environmental law to address a series of controversial issues arising from the Habitats Directive. Highlights of the book include:-
A foreword by Lord Justice Carnwath
Stephen Tromans QC: The meaning of 'plan or project' for the purposes of the Habitats Directive
Dr Catherine McKenzie: The International Law Origins of the Habitats Directive
Gregory Jones QC: What is meant by 'no adverse effect on the integrity of the SAC'?
Charles George QC & David Graham: Morge where are we now? The meaning of 'disturbance' in the Habitats Directive
Simon Ricketts & Sarah Bischoff: SANG's and the Habitats Directive
Dr Richard Caddell: The maritime implications of the Habitats Directive
Andrew Waite: The Habitats Directive: an example of a new principle of equilibrium for environmental protection?
Denis Edwards: Applying the precautionary approach to the Habitats Directive
Rebecca Clutten & Isabella Tafur: An examination of the Overriding Public Interest
Peter Scott: Appropriate Assessment: a Toothless Tiger?
Paul Stookes: What's Wrong with Appropriate Assessment?
Gregory Jones QC & Ned Westaway: How to deal with candidate and potential SPA's.