A Guidebook to Intellectual Property 6th ed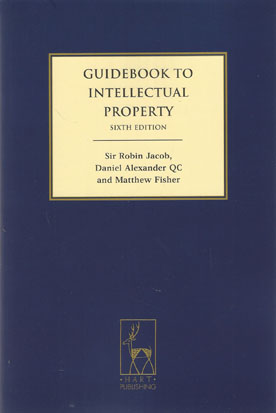 ISBN13: 9781849463256
Published: September 2013
Publisher: Hart Publishing
Country of Publication: UK
Format: Paperback
Price: £26.99

This is a unique book about Intellectual Property. It is aimed not only at law students studying the subject but at interested users of IP - businesspeople, inventors, scientists, designers and others.
It tries not only to provide an outline of the basic legal principles but also aims at showing how the system actually works. You cannot understand chess by merely learning the rules - for that you have to know how the game is played. So, also, with Intellectual Property.
To achieve its object the authors deliberately avoid technicalities and keep it simple, yet direct.There are no footnotes to distract. Although cases are, inevitably, referred to they are explained in a pithy, accessible manner. The authors try wherever possible to be both serious and light-hearted at the same time. All the major areas of IP, patents, trade marks, copyright and designs are covered, along with brief mentions of other rights such as those in plant varieties and databases.
A novice reader of this book should come away both with a clear outline of IP law and a feeling for how it works. Students will be able to put their more detailed study into perspective. Users will be able to understand better how IP affects them and their businesses.
from the Preface The wheel has come full circle - time for a new edition of 'Blanco's little book'. Despite all the changes in IP law over the years, the heart of what that greatest of all IP lawyers, Thomas Blanco White, wrote in the three little pamphlets just after the War remains unchanged - for this book tries not so much to expound the detail of the law (which has changed a lot) but how it actually works.
Whether the reader is a student or businessman or even a lawyer from outside this area oflaw, what we intend is what Blanco intended: that the essential nature of living IP law should be described. That is why there are no footnotes, few case references in the text and little attempt at any detailed exposition. What we want is the reader to come away with a good idea of how it all works in practice.