The Right to Regulate in International Investment Law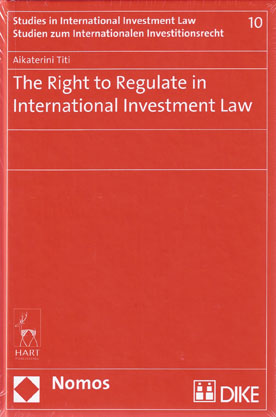 ISBN13: 9781849466110
Published: June 2014
Publisher: Hart Publishing
Country of Publication: UK
Format: Paperback
Price: £140.00

Usually despatched in 1 to 3 weeks.
Since the inception of the international investment law system, investment promotion and protection have been the raison d'être of investment treaties and states have confined their policy space in order to attract foreign investment and protect their investors abroad.
Languishing in relative obscurity until recently, the right to regulate has gradually come to the spotlight as a key component of negotiations on new generation investment agreements around the globe. States and regional organisations, including, notably, the European Union and the United States, have started to examine ways in which to safeguard their regulatory power and guide - and delimit - the interpretive power of arbitral tribunals, by reserving their right to pursue specific public policy objectives.
The monograph explores the status quo of the right to regulate, in order to offer an appraisal and a reference tool for treatymakers, thus contributing to a better understanding of the concept and the broader discourse on how to enhance the investment law system's legitimacy.
Same book as ISBN 9783848710621