Understanding Legislation: A Practical Guide to Statutory Interpretation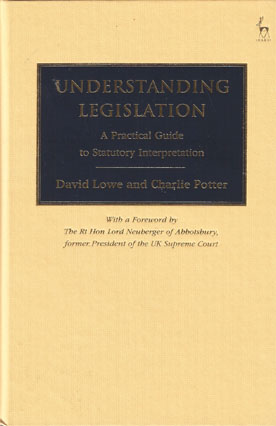 ISBN13: 9781849466417
Published: March 2018
Publisher: Hart Publishing
Country of Publication: UK
Format: Hardback
Price: £95.00

Understanding Legislation provides a practical guide to interpreting both English and European legislation of all kinds.
The book can be used as a practitioner's first port of call on all matters of statutory construction. It is designed to serve as a succinct and authoritative point of reference for questions concerning sources of legislation, the anatomy and structure of differing instruments and matters of interpretation.
As well as considering how to read statutory language, and the key presumptions that the courts will apply, the book addresses how other legislation and materials can influence the interpretive exercise and in what way.
To this end, it discusses the interpretive significance of the different components of legislation, the various external aids to construction that may exist, and the role of international law, EU law and the European Convention on Human Rights (through the Human Rights Act 1998) in interpreting domestic law.
While the primary focus is on English law, the treatment of EU and international law also serves as a short freestanding guide to the construction of EU instruments and treaties.