Fundamentals of the Irish Legal System: Law, Policy and Politics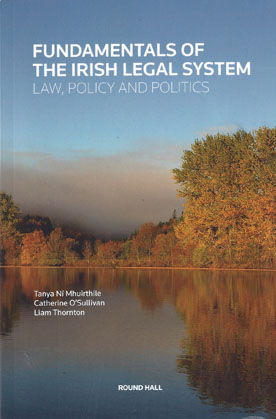 ISBN13: 9781858007120
Published: June 2016
Publisher: Round Hall Press
Country of Publication: Ireland
Format: Paperback
Price: £87.00

Despatched in 7 to 9 days.
Fundamentals of the Irish Legal System is part of a new series of textbooks for students Round Hall Fundamentals.
It explains and critically assesses how our law is made and applied and provides a solid knowledge and understanding of the Irish legal system.
It sets down and examines the Irish legal system in a clear and accessible manner, while also requiring the student to think about deeper issues relating to law and its interaction with society.
As well as providing students with an extremely accessible text on the Irish legal system it also covers wider policy questions.
Focuses on what is the law, sources of law, how the law is used, the civil and criminal court systems, alternative dispute resolution, the role of judges, solicitors and barristers in the Irish legal system and administrative justice.
Explains the intricacies of this area of the law in an accessible manner, while also providing some analysis and discussion on key areas and controversies.
Presents the information in an accessible manner.
Enables students to self test so that they are confident in their knowledge before moving onto the next chapter
Includes a section on how to find, read and analyse legislation, cases, other textbooks and journal articles so that students can put their knowledge into practice
Key learning features include:


A clear and logical structure
Sets out a clear framework and explains the intricacies of the law as clearly as possible without foregoing the detail necessary for a thorough understanding of the issues raised
Includes practical examples, tips, and advice
Handy chapter summaries which act as a good check point for students
Sources for further reading and suggested websites at the end of each chapter to point students towards further learning
Opens each chapter with a bulleted outline of the main concepts and ideas to be covered in that chapter and closes each chapter with a summary to recap the main points
Assumes no prior knowledge of the subject ? allowing the book to be used for those new to the subject, yet also contains interesting insights and materials for those who have some exposure to the issues examined.