Douglas & Geen on The Law of Harbours, Coasts and Pilotage 5th ed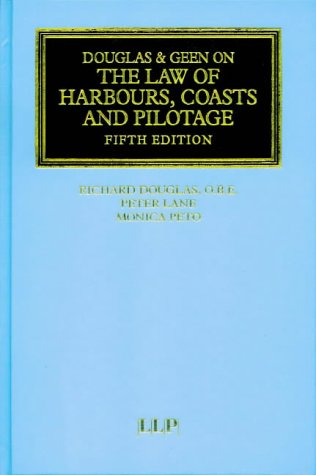 ISBN13: 9781859781524
ISBN: 1859781527
Published: December 1997
Publisher: Informa Law
Country of Publication: UK
Format: Hardback
Price: Out of print

Recognized as a definitive work on the law relating to the management and operation of harbours, this practical book has now been expanded to cover the conservation and management of the coast, including local authority functions in this area, and the increasing environmental responsibilities of harbour authorities.
The authors have added complete new sections on coastal law for this edition.;""Douglas and Geen on the Law of Harbours, Coasts and Pilotage"", 5th edition brings together and analyzes the legislative requirements relating to the management and operation of harbours by statutory harbour authorities. It describes and explains the powers, duties and liabilities of harbour authorities, both in general and specifically with regard to particular areas such as: navigational safety; dangerous substances; pollution; finance; cargo handling and security.
A separate chapter discusses in detail Section 33 of the Harbours, Docks and Piers Clauses Act 1847 and the cases in which this very important provision has featured, including recent High Court decisions.;There are also dedicated chapters which explain the provisions of the Ports Act 1991 for the privatization of Port trusts, and which discuss the powers of harbour authorities to form and acquire companies.
The section on pilotage law looks in detail at the relevant legislation, and describes the division of control between master and pilot, between ship and tug and between ship and harbour master.;Three new chapters on the law of coasts cover: coastal development - the control of harbour and coastal development both by harbour authorities and others.
It describes the various legal hurdles which must be surmounted before development (including dredging) can take place; coastal protection - the powers to carry out coastal protection works and prevent flooding; and conservation and management, including the Wildlife and Countryside Act 1981, the Birds and Habitats Directives, the Conservation (Natural Habitats etc) Regulations 1994, conservation duties of harbour authorities under the Harbours Act 1964, as amended, and coastal management plans. In addition, the chapter on by-laws has been expanded to deal with by-laws for the management of the coast.