Charity Checklists 2nd ed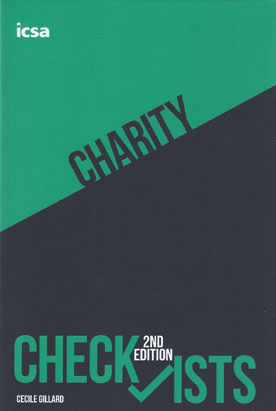 ISBN13: 9781860727610
Published: February 2019
Publisher: ICSA Publishing Ltd
Country of Publication: UK
Format: Paperback
Price: £39.95

Charity Checklists is ICSA's easy-to-use guide to key areas of charity administration and regulatory compliance. Using a clear step-by-step approach, taking you through a range of common processes, it will transform the way your charity operates in its everyday tasks.
This updated edition covers material on:-
The legal and regulatory changes introduced by the Charities (Protection and Social Investment) Act 2016
The revised Charity Governance Code
Data Protection and GDPR
Social investments
Current law and regulation for charitable registered societies.
Each checklist includes an introduction and explanation, identifies the key points to consider and sets out the procedure in a series of straightforward steps. It is an invaluable and essential resource for anyone involved in the day-to-day running of a charity.