Media Law in New Zealand 6th ed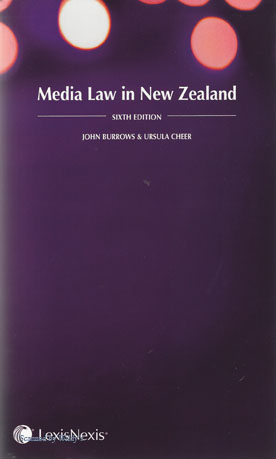 ISBN13: 9781877511226
Published: November 2010
Publisher: LexisNexis New Zealand
Country of Publication: New Zealand
Format: Paperback
Price: Out of print

Media Law in New Zealand, 6th ed, provides comprehensive and definitive coverage of media law in New Zealand.
The much-anticipated 6th edition of this highly regarded book has been fully updated to take account of all recent developments. Written by two of New Zealand's foremost scholars in this area, this book is a must-have text for students of media law, lawyers, and journalists and other media professionals.
Updates to the 6th edition include:-
Rewritten chapter on privacy to reflect local and overseas developments.
Revised analysis of the law relating to breach of confidence.
Substantially reviewed coverage of defamation, including a new section analysing the impact of the internet on issues relating to publication.
Discussion of the 'Cyber-memory case', the Bain retrial, and the Fairfax contempt prosecution for publication of details in a suppressed affidavit.
A new treatment of New Zealand's censorship system.