The Uppsala Yearbook of East European Law 2005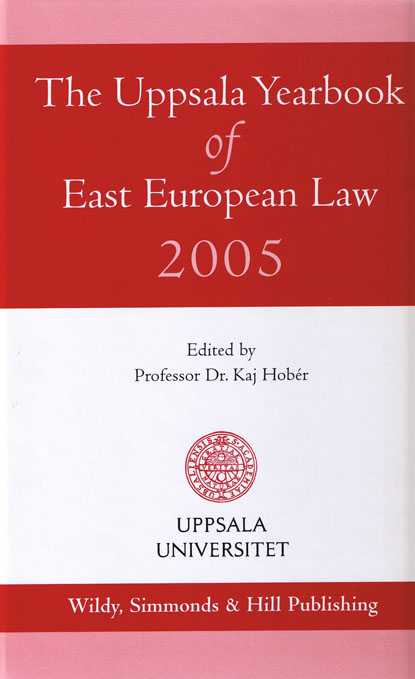 ISBN13: 9781898029892
Published: March 2007
Publisher: Wildy, Simmonds and Hill Publishing
Country of Publication: UK
Format: Hardback
Price: £95.00

The Yearbook is concerned with the legal systems of all the former planned economies in the former Soviet Union, Central and Eastern Europe, collectively referred to as Eastern Europe. It is written for practicing lawyers both in the private and public sectors. It is the firm belief of the editor and the Advisory and Editorial Board that scholarly analysis and research can – and indeed, must – go hand in hand with the practice of law. This is particularly true in a constantly and rapidly developing field such as East European legal systems. Neither a serious publication; nor scholarship needs to be dull. The Yearbook reports and analyze leading decisions of courts in all the jurisdictions concerned. The Yearbook covers all areas of law, from constitutional law, to criminal, administrative, commercial and civil law, as well as tax law and public and private international law. The Yearbook seeks to be scholarly and practical, lively and readable. It does not shun controversy or unpopular views – indeed controversy is expected and welcomed. It is believed that confronting issues from all sides, rather than avoiding them, is the better way of understanding the past, present and future development of East European legal systems.
Topics addressed in the 2005 Yearbook include:
Legal Nihilism in Action. The Yukos-Khodorkovskii trial in Moscow; International Socialization and Access to Justice in Public Law Matters: The Case of Russia; A Human Rights perspective on the Expropriation and Redistribution of Property in Eastern Germany. Divorce and Children: Family Law and public Policies in Bulgaria; The Self-Determination Principle in Family Law: The Serbian Family Act 2005.