Taken at the Flood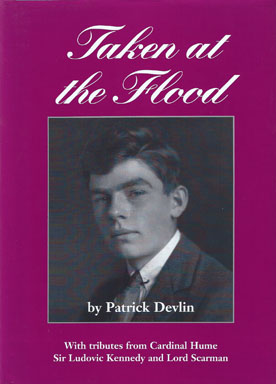 ISBN13: 9781901470000
ISBN: 1901470008
Published: December 1996
Publisher: Taverner Publications
Country of Publication: UK
Format: Hardback
Price: Out of print

Out of Print
Patrick Devlin is best known for his legal rulings, championship of the jury system, and as the judge who acquitted Dr Bodkin Adams, the Eastbourne doctor who was accused of murdering his patients; but only Patrick's immediate family know much about his early life.
This autobiography, started four years before Patrick died (aged 86) in 1992, aimed to describe his first days at the Bar. It expanded to include:-
A description of his childhood in Aberdeen, where his Irish architect father had married into the less wealthy part of the Crombie cloth-making family: some of his aunts and uncles read like characters out of The Forsyte Saga.
His education by the Jesuits at Stonyhurst where he first learnt the art of debating.
A detailed account of his time at Christ's College, Cambridge in the 1920s where he became President of the Union and his friends included Rab Butler, Michael Ramsey and Selwyn Lloyd. There he had the enormous fortune to be tutored by Arthur Goodhart.
For someone who was to make such an impact on the Law in later life, Patrick's early beginnings at the Bar were difficult and he nearly gave up in despair. He took up residence at the Savile Club and managed to get an apprenticeship tq WIthers & Company.
His fortunes improved when he was chosen to "devil" for WIlliam Jowitt, the Attorney General, and then followed him into Chambers in Brick Court. Patrick was a close observer of the political scene during the rise and fall of the first Labour Government in 1929 and the period of the national coalition forms a backdrop to the later chapters.
He first came to public attention when he was Junior Counsel in the celebrated Hearn murder case and he describes the part luck played in his early progress - hence the title: Taken at the Flood.
The book ends before he became a QC in 1945 but tributes from Cardinal Hume, Sir Ludovic Kennedy and Lord Scarman place his early life in the context of one of the most distinguished legal careers of the century.