Defending Suspects at Police Stations: The Practitioner's Guide to Advice and Representation 6th ed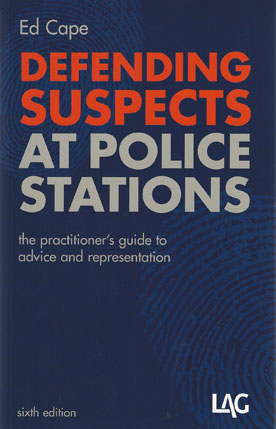 ISBN13: 9781903307830
Published: October 2011
Publisher: Legal Action Group
Country of Publication: UK
Format: Paperback
Price: Out of print

Ed Cape's authoritative guidance is unrivalled. Comprehensive yet highly accessible and practical, Ed Cape provides the answers to everyday practical questions and problems. Initial chapters explain the basic principles of defending clients at the investigative stage and examine the key provisions of PACE and the Codes of Practice.
Subsequent chapters tackle the various stages of advising a client including taking instructions, advising on 'silence', interview strategies, samples and searches, identification procedures and the charge decision.
The book includes dedicated chapters on advising and assisting vulnerable clients, and on enforcement of the PACE and Code provisions. It also contains expert guidance on immigration detainees and the complex and unfamiliar aspects of immigration law that apply.
The sixth edition includes an up to date version of PACE (including changes made by the Police (Detention and Bail) Act 2011) and a full set of the most recent versions of the PACE Codes. There is a wealth of checklists, specimen letters, sample statements and forms as well as boxed summaries in each chapter so vital information can be seen at a glance.
With the challenges presented by cuts to the criminal legal aid budget, fixed fees and the possible introduction of a means and merits test for police station legal aid, ready access to all the up to date information needed by the police station adviser has never been more important.
The sixth edition of Defending Suspects covers major changes to legislation, case-law and practice including:-
Significant changes to PACE and the Codes of Practice - new provisions on stop and search, new powers concerning biometric data, new legislation on police bail, important changes to Code D on identification procedures, changes to the length of detention in terrorism cases, and revision of Codes E and F to allow for electronic recording of interviews.
Major case-law developments - R (Michaels) v Highbury Corner Magistrates' Court and R v Bristol (stop and search); Re McE and CPS v LR (power to subject lawyer/client consultations to surveillance); Richardson v CC West Midlands Police and Scott Hayes v CC Merseyside Police ('necessity' for arrest); Wood v DPP, R v Iqbal and Cumberbatch v CPS (unlawful arrest); R v Alagaratnam, R v Abbas, R v Mohammed, R v Athwal, and R v Essa (prepared statements and inferences from silence); R v Preddie and R v Pecco (identification); R v Gore, R (M) v Leicestershire Constabulary and R (G) v DPP (diversion); R (Chief Constable of Greater Manchester Police) v City of Salford Magistrates' Court and Paul Hookway (police bail and amendment of PACE by the Police (Detention and Bail) Act 2011).
Changes to policy and guidance - the revised Code for Crown Prosecutors, revised charging guidance from the DPP, new Codes of Practice on conditional cautions and youth conditional cautions, revised policies on police cautions.