Animal QC: My Preposterous Life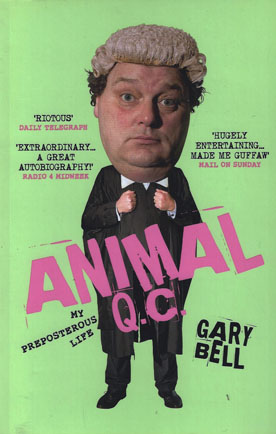 ISBN13: 9781906308667
Published: March 2016
Publisher: Monday Books
Country of Publication: UK
Format: Paperback
Price: £8.99

Gary Bell QC is one of Britain's top barristers, with his own hit BBC TV show The Legalizer (he's now working on series two), a Who's Who entry and a wife whose family is listed in Burke's Landed Gentry.
But behind his silk gown and horsehair wig is a compelling and hilarious backstory.
The chronic bedwetting son of a teenaged cigarette factory worker and a nineteen-year-old miner, Gary grew up in a condemned Nottingham slum and left his tough comprehensive school without taking any exams to follow his dad down the pit.
He spent his teenage years as a drunken football hooligan known as Animal (for his terrible eating habits, not his fighting skills), baking pies at Pork Farms, stacking shelves at Asda, and trying and failing to become (among other things) a miner, a bricklayer, and a fireman. After being convicted of fraud and sentenced to six months (he worked out how to fiddle pub fruit machines), he was homeless for some years.
Finally deciding to make something of himself, he took O and A levels and hitch-hiked to Bristol University as a mature law student in his mid 20s. After three hilarious years he somehow managed to wangle a job with a Beverly Hills law firm before he'd even graduated. He went on to become a barrister and, twenty years later, achieved the rare honour of being appointed Queen's Counsel.
His preposterous story which contains some fascinating details of the many major cases he has worked on reads like a strange dream and redefines the word amazing, as well as being extremely funny, very moving, and utterly life-affirming.