Outcomes-Focused Regulation: A Practical Guide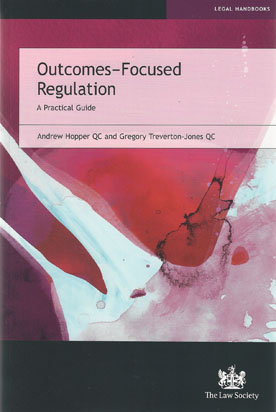 ISBN13: 9781907698095
Published: September 2011
Publisher: Law Society Publishing
Country of Publication: UK
Format: Paperback
Price: Out of print

The SRA's outcomes-focused regulatory framework focuses on the high level principles and outcomes that should drive the provision of legal services.
It is part of the philosophy of an outcomes-focused approach that prescriptive rules are avoided if possible and practitioners make a judgement, reflecting their own clients and the nature of their practice, as to how to achieve the required outcomes. The regulator provides only limited guidance.
Written by Andrew Hopper QC and Gregory Treverton-Jones QC, authors of The Solicitor's Handbook 2011 and leading figures in the regulatory and disciplinary field, Outcomes-Focused Regulation provides an explanation of the practical impact of this new regime and is designed to provide guidance that might not otherwise be readily available.
The book's structure mirrors that of the Code of Conduct in the SRA Handbook, providing a chapter on each of the new sections with additional chapters explaining OFR in principle; how regulation will apply in practice; and how the SRA is likely to interact with the profession in future.
An erratum slip has been isssued by Law Society Publishing and may be
Downloaded here...