Leasehold Disputes 3rd ed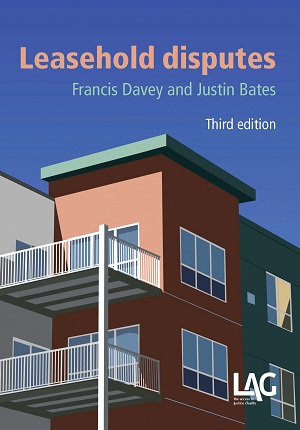 ISBN13: 9781908407108
Published: March 2014
Publisher: Legal Action Group
Country of Publication: UK
Format: Paperback
Price: Out of print

The law and practice governing leasehold management is far from simple and affects over 5 million leasehold properties in England and Wales. Leasehold Disputes is a highly practical and accessible guide for anyone likely to find themselves before, or considering making an application to, a tribunal. It also aims to equip leaseholders and their advisers with the necessary information on their rights, and the obligations of landlords, to resolve issues without resort to the tribunal system.
There is full coverage of the relevant case-law and legislation relating to the main areas of dispute such as service and administration charges, repairs, right to manage, access to service charge information, consultation in respect of service charge costs, insurance, variation of leases and forfeiture.
The substantive law is balanced with clear advice and tactical guidance. Each chapter begins with a summary of key points and a section on advice for tenants. There is a step-by-step guide to application and hearing procedure, useful information on costs and funding and worked examples.
This edition is up to date to include:
The abolition of the LVT in England and its replacement by the First-tier Tribunal (Property Chamber)
Separate coverage of the contrasting LVT regime in Wales
A new chapter on appeals to the Upper Tribunal (Lands Chamber)
A new chapter on freehold service charges
A new chapter on the recoverability of landlord's costs
Expanded coverage on consultation
Leasehold Disputes
is essential reading for residential tenants and their advisers, lawyers, tribunal representatives and panel members and local authorities.