Defending Possession Proceedings 8th ed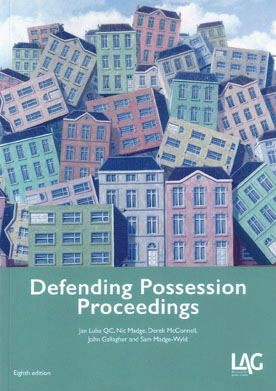 ISBN13: 9781908407641
Published: September 2016
Publisher: Legal Action Group
Country of Publication: UK
Format: Paperback
Price: Out of print

Defending Possession Proceedings is the key 'homelessness prevention' handbook – a comprehensive guide to all aspects of the law and practice relating to possession proceedings pursued against occupiers of residential property.
Dealing with the three principal types of occupier – social housing tenants, private tenants and mortgage borrowers – Defending possession proceedings seeks to guide occupiers and their advisers in dealing with possession claims, tracing the court process from the initial notice given in the aftermath of eviction. It is written in a user-friendly way, so that it contains information which is of use to the most experienced legal practitioner, yet is still understandable to the least experienced housing adviser.
The eighth edition of Defending Possession Proceedings takes account of current and future legislative changes in the Housing and Planning Act 2016; the Deregulation Act 2015, the Immigration Acts 2014 and 2016, the Anti-social Behaviour, Crime and Policing Act 2014; the Legal Aid, Sentencing and Punishment of Offenders Act 2012; the Localism Act 2011 and the Equality Act 2010.
It covers in detail the impact of the Government's welfare reform agenda through the introduction of the 'bedroom tax' and the benefit cap. The chapters on possession procedure incorporate all relevant changes in the Civil Procedure Rules, in particular the new Pre-action Protocol on possession claims by social landlords and the updated Pre-action Protocol on Mortgage Arrears.
Important cases featured include Kay v United Kingdom (2010? In last ed?) in the European Court of Human Rights; the Supreme Court cases Akerman-Livingstone v Aster Communities Limited, Hounslow LBC v Powell, McDonald v McDonald and R (ZH and CN) v Newham LBC and Sims v Dacorum BC; and in the Court of Appeal, Barnsley MC v Norton , Zinda v Bank of Scotland plc and R (JL) v Secretary of State for Defence.
Defending Possession Proceedings is an essential purchase for all advice workers, solicitors and barristers working with actual or prospective defendants in possession proceedings.