A Practical Guide to Advising Schools on Employment Law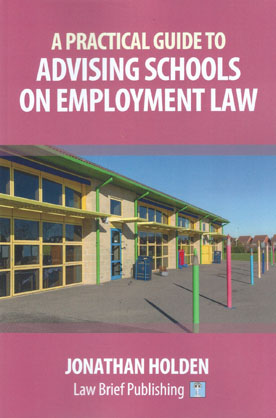 ISBN13: 9781911035718
Published: April 2018
Publisher: Law Brief Publishing
Country of Publication: UK
Format: Paperback
Price: £29.99

Advising educational establishments on their rights and responsibilities as an Employer is an increasingly complex and specialist area; particularly with the drive towards academisation, multi-academy trusts and the ever increasing legislative burden of safeguarding and governance.
Based on the author's extensive experience in this area, this text provides a practical approach to advising on employment issues for Schools and academies. Aimed at all those advising clients in this sector, the text focuses on key issues unique to the sector; including:-
Who is the Employer?
An examination of the different types of educational institutions and the intricacies unique to each.
Disciplinary and misconduct issues – including safeguarding issues and the role of the barring authorities.
Performance management including sickness absence; performance related pay and the statutory appraisal framework.
TUPE in the Education Sector.
Trade Union relations.
Pensions – an examination of key areas practitioners should be aware of in dealing with the Local Government Pension Scheme and Teachers' Pension Scheme, with particular reference to restructuring.