A Practical Guide to Claims Arising from Delays in Diagnosing Cancer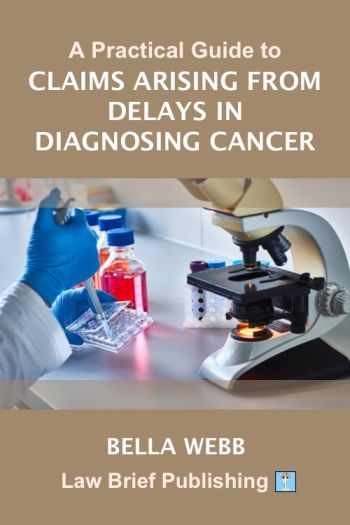 ISBN13: 9781911035985
Published: October 2018
Publisher: Law Brief Publishing
Country of Publication: UK
Format: Paperback
Price: £29.99

It is a sad fact that cancer remains the leading cause of death for both men and women in England and Wales. Cancer survival rates in the UK are and have for some years been a hot topic, with the media having published articles which suggest that Cancer Survival in the UK is the worst anywhere in Europe and indicating that late diagnosis of cancers in the UK may explain the poor survival rates in Britain compared with other countries.
It is not surprising against this background that legal action for delayed cancer diagnosis is on the rise, and yet surprising perhaps that there is so little written to help practitioners through the practicalities of taking on and managing these complex cases. A Practical Guide to Claims Arising from Delays in Diagnosing Cancer will equip you with the tools to deconstruct and manage these legally and often factually complex and emotive claims through to trial, and provide a practical and easy to digest guide to the issues that the legal practitioner will need to consider.
The book provides a background to the history of such claims and the data which underlies them. It will guide you through the distinctions between different cancers and the impact of cancer "type" upon how the case is run, as well as understanding the NICE guidelines and other useful sources of information. That background is invaluable to understanding why these claims are so significant and the premise upon which they are based. From those foundations, you will learn how to review a potential claim, prioritising and managing evidence through to instructing experts, considering the often crucial issues of factual and legal causation and framing claims for the seriously ill, dying and bereaved. In each case the author will suggest practical approaches to the problems that such claims throw up.