Arrest, Detention and Questioning: Law and Practice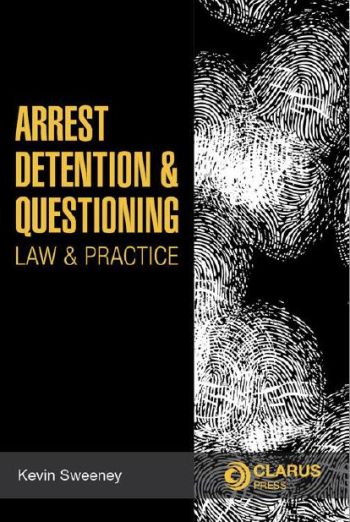 ISBN13: 9781911611165
Published: February 2019
Publisher: Clarus Press
Country of Publication: Ireland
Format: Paperback
Price: £82.00

Usually despatched in 1 to 3 weeks.
Arrest, Detention and Questioning: Law and Practice examines the law and practice of some of the key functions of policing in Ireland in relation to Garda investigations and a person's rights in custody.
The investigation of crime is a core function of An Garda Síochana. As a result, the arrest, detention and questioning of criminal suspects is a routine process in Garda investigations. The legal architecture that permits such questioning is a combination of relatively new legislation and regulations overlaid on other rules and procedures that are sometimes ancient in origin. Consequently, there can be inherent contradictions that appear throughout the system and elements of the process can often appear overly complex even to practitioners. People outside the legal profession can oftentimes find the procedures involved bewildering.
Arrest, Detention and Questioning: Law and Practice examines the legislation, rules and regulations that protect the rights of a suspect in custody for interrogation. These include the detention provisions themselves, the custody regulations, audio-visual recording and the role of solicitors in the process. It is within this framework that Gardaí must work to solve crime and prosecute those responsible before the courts. The interview training method available to Gardaí and efforts by successive governments to rebalance the criminal justice system are all explored.