Court of Protection Handbook: A User's Guide 4th ed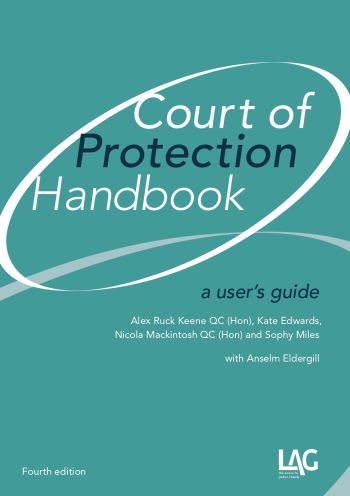 ISBN13: 9781913648404
Published: July 2022
Publisher: Legal Action Group
Country of Publication: UK
Format: Paperback
Price: £75.00

'Court of Protection Handbook' should be in the hand of every practitioner and, more particularly, of every lay user of the Court of Protection.' - Sir James Munby, Former President of the Court of Protection
'Court of Protection Handbook' is in a league of its own … It can truly be said this book is a further step in the COP's revolution – with the court's door now just a little more open.' - Richard Charlton, President of the Mental Health Lawyers Association
Court of Protection Handbook: a user's guide addresses in detail the practice and processes of the Court of Protection – across the whole range of its work – in terms that are aimed not only at lawyers but also to the increasing numbers of people who either by choice or otherwise are involved in proceedings before the Court of Protection without legal help. The authors are widely recognised as leading specialists in Court of Protection work, with an unrivalled breadth of experience. They also write, teach and train extensively on the Mental Capacity Act and the Court of Protection, and are all at the centre of development of law and procedure in the Court.
The book begins with an overview of the Mental Capacity Act 2005 and the Court of Protection, before turning to a step-by-step guide through the processes of preparing and making an application, funding and representation issues, preparing for and appearing at hearings, evidence, costs, enforcement and appeals. Court of Protection Handbook is comprehensive yet accessible. Complex issues are explained clearly and succinctly with the helpful use of tables and diagrams.
The Handbook is supported by www.courtofprotectionhandbook.com. On this site, you will find links to relevant statutory materials and other guidance that space precluded us from including in the appendices, precedent orders covering most of the most common situations that arise before the Court, useful (free) web resources, and updates on practice and procedure before the Court of Protection. These updates take the form of posts on the site's blog, and also (where relevant) updates cross-referenced to the relevant paragraphs in the book.