Refugees and Migrants in Law and Policy: Challenges and Opportunities for Global Civic Education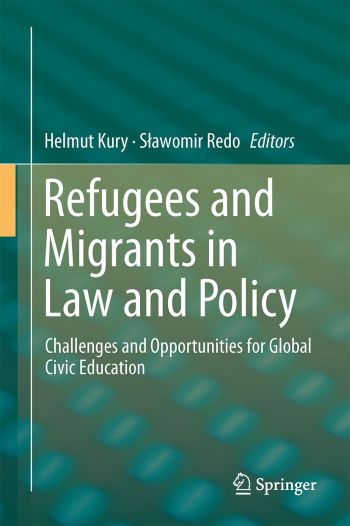 ISBN13: 9783319721583
Published: June 2018
Publisher: Springer-Verlag
Country of Publication: Switzerland
Format: Hardback
Price: £219.50

This is a Print On Demand Title.
The publisher will print a copy to fulfill your order. Books can take between 1 to 3 weeks. Looseleaf titles between 1 to 2 weeks.
Refugees and migration are not a new story in humankind, but in the in the last few years have again been a topic of intensive and contentious discussion in politics, media as well as in scientific publications, against the background of an immense number of non-documented/irregular migrants, especially from war-torn countries. Two United Nations framework declarations on the sustainable development goals and for the refugees and migrants adopted in 2016 by consensus by all Member States have prompted the Editors, international criminologists by background, to invite over 50 authors from different countries to contribute their highly-relevant expertise on civic education aspects of the refugee and migrant crisis in the Global North and South.
The purpose of this book, comprising 33 articles, is to present an overview of interdisciplinary issues involved in irregular migration to and from different countries round the world. The book is addressed to educationists, educators, diplomats, mass media, decision-makers, criminologists and other specialists faced with questions involving refugees and migrants and also specialists who are interested in advancing the prospects of orderly, safe, regular and responsible migration and mobility, in the context of promoting peaceful and inclusive societies for sustainable development. Rather than a timeline for migration policies based on the now, with States focusing on "stopping migration now", "sending back migrants now" or "bringing in technicians or low-skilled migrant workers now", there should be a long-term strategy for multicultural integration and economic assimilation. This book, prefaced by Francois Crepeau, the United Nations Special Rapporteur on the human rights of migrants, and William Lacy Swing, Director-General of the International Organization for Migration, from the academic and practical perspectives of experts in the field of social sciences and welfare, addresses the question of rights and responsibilities involved in irregular migration now, and charts the way until 2030 and beyond, also beyond the paradigm of political correctness.
The anthology features respective texts from the perspective of demography, public international law, education, psychology, psychiatry, sociology, crisis management, political science, practical theology, journalism, criminology, victimology, industrial development and non-governmental work. This evidence-driven book analyses various partisan approaches to dealing with the current and emerging calls for global and regional actions in the age of migration. Aware of divisive, internationally and domestically, refugee and other migration developments and concerns, the book advocates a greater alignment of academic and political discourse with the United Nations recommendations for sustainable development, with their ground-breaking new paradigm of inclusiveness. In this context, the anthology's contributors sensitize the readership to the need of careful differentiation of public, including populist, concerns (e.g. fear of crime and terrorism), to the role of mass media, of urban environment in crime prevention, and to the overriding humanitarian concerns involving refugees, including their acutely traumatic experiences.
The authors emphasize the importance of their and other immigrants' human rights, the practicality and viability of some approaches to educate and otherwise counter the experienced problems in integration and assimilation of refugees and migrants in respective intercultural, social and labour market terms, especially at the local level, starting with preschool education up to university level, wherever educating in critical thinking and shared responsibility is possible. In this book, those terms are also a part of the Global South internal and international migration, hence the respective expert contributions from the perspectives of the United Nations Educational, Scientific and Cultural Organization and the United Nations Industrial Development Organization.