Nowak's CCPR Commentary: U.N. International Covenant on Civil and Political Rights 3rd ed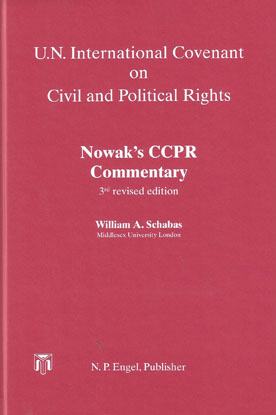 ISBN13: 9783883571591
Published: November 2019
Publisher: N.P. Engel Verlag
Country of Publication: Germany
Format: Hardback
Price: £240.00

Wildy's Book of the Month: December 2019
The International Covenant on Civil and Political Rights is one of the components of the International Bill of Rights. This is an article-by-article commentary on the Covenant and its two Optional Protocols.
For each provision, the preparatory work as well as the case law of the Human Rights Committee and the concluding observations on periodic reports by States Parties is reviewed. It is the third edition, substantially revising the second edition which was published in 2005.
William A. Schabas has agreed to continue Manfred Nowak's CCPR Commentary (1st and 2nd ed., published in 1993 and 2005, respectively).
Since the publication of the first edition a considerable increase of States parties to the Covenant on Civil and Political Rights and to its first Optional Protocol (OP) took place. 1 Jan. 2019: CCPR 172 ratifications (1993: 114 States); OP 116 ratifications (1993: 66 States)
For the purposes of the present Commentary, the entire case law on individual communications as well as all General Comments and country-specific Concluding Observations pursuant to Art. 40(4) have been treated as an "authoritative interpretation" of the relevant provisions of the Covenant. Individual opinions of Committee members, be they concurring or dissenting, are also taken into account. Sometimes, the separate opinions foretell developments in the case law.
Comparative law elements: The reader's attention is – whenever appropriate – drawn to other international conventions (universal and regional) and the case law of the respective organs, especially to the European Convention on Human Rights and the ECtHR.