An Institutional and Normative Analysis of the World Trade Organization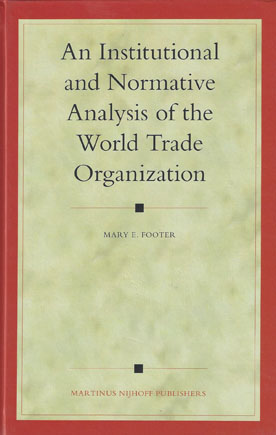 ISBN13: 9789004149618
ISBN: 9004149619
Published: November 2005
Publisher: Brill Academic Publishers
Country of Publication: The Netherlands
Format: Hardback
Price: £152.00

This book establishes a framework for analysis of the institutional and normative character of the WTO by locating the organization in a broader theory of international institutional law and in determining the basis for the conferral and exercise of powers in relation to its executive, legislative and adjudicative functions.
The WTO is also read as an international regime in order to go beyond its formal legal and constitutional bases and to observe the Members' practice in the context of the former semi-institutionalised GATT treaty regime with which it retains strong links. WTO decision-making, which underpins and informs its institutional and normative acts, is analysed in order to better understand the dynamics of the organization.
Normative developments in the WTO are reviewed from the perspective of the creation, maintenance and revision of legally binding and non-binding or 'soft' law norms, in the sense of principles, rules and standards contained in primary treaty rules, which set out the rights and obligations of the Members, and subsidiary rule-making activity by WTO bodies.