Responding to International Crime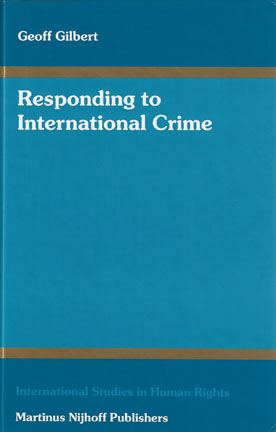 ISBN13: 9789004152762
ISBN: 9004152768
Published: June 2006
Publisher: Brill Nijhoff
Country of Publication: The Netherlands
Format: Hardback
Price: £210.00

Despatched in 11 to 13 days.
Following the wars in the former Yugoslavia and Rwanda, and the events of 11 September 2001, awareness of international crimes has come to the forefront of public consciousness.
The very public responses seen in the establishment by the Security Council of the ad hoc tribunals and the international community coming together to create the International Criminal Court have done much to promote the idea that there should be no impunity for international criminals.
Nevertheless, while those are incredibly significant steps in the attempt to combat international crime, there is no way due to their jurisdictional competence that such bodies could ever hope to address all the various crimes that are committed that are not confined to a single domestic jurisdiction either by reason of their nature or trans-border factors.
As such, the response of the international community to international crime depends as much on extraterritorial criminal jurisdiction, mutual legal assistance agreements, extradition and other means of lawful rendition. Furthermore, given the fundamental rule that a person is innocent until proven guilty and that everyone within the jurisdiction of a State is owed certain basic minimum human rights guarantees, responses to international crime cannot be without limitation.
Respect for the alleged transnational fugitive offender is as important a factor in responding to international crime as preventing impunity for genocide, crimes against humanity, war crimes and gross human rights violations.