Treaty Interpretation and the Vienna Convention on the Law of Treaties: 30 Years on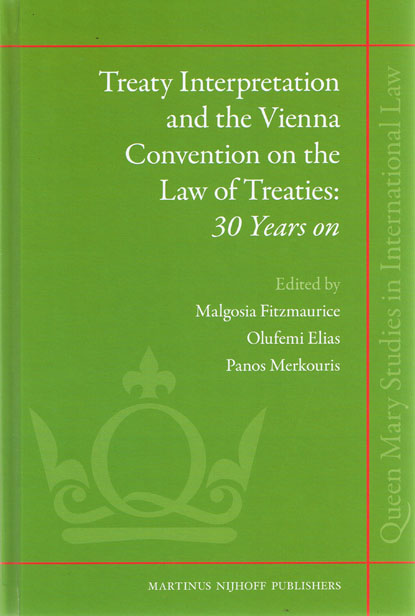 ISBN13: 9789004181045
Published: June 2010
Publisher: Brill Nijhoff
Country of Publication: The Netherlands
Format: Hardback
Price: £148.00

Interpretation has always had a prominent place in international adjudication, yet its role has been further enhanced during the last few decades with the expansion of the regulatory range of international law and the proliferation of international judicial bodies.
In such a diverse new world and celebrating the 30 years sicnce the entry into force of the VCLT, this Volume on Treaty Interpretation attempts a much needed re-examination of the issues of treaty interpretation.
In the first part of this Volume the authors focus on the VCLT itself and examine the nature of interpretation and the normative content of the relevant provisions. In the second and third parts of the Volume the analysis turns to the characteristics of treaty interpretation as applied within two of the most important sectors of international law i.e. that of trade and investment law on the one hand and of human rights on the other.
Such a two-tiered approach allows for a more comprehensive understanding of the content and function of the principles of interpretation as enshrined in Articles 31-33 of the VCLT.