A Guide to the NAI Arbitration Rules: Including a Commentary on Dutch Arbitration Law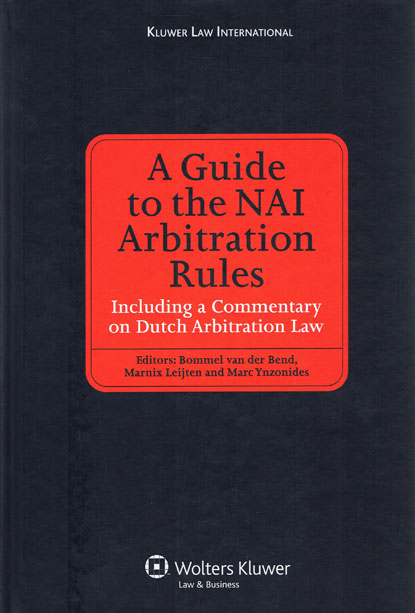 ISBN13: 9789041127341
Published: May 2009
Publisher: Kluwer Law International
Country of Publication: Netherlands
Format: Hardback
Price: £173.00

Despatched in 8 to 10 days.
The Netherlands Arbitration Institute (NAI) is the most prestigious institute in the Netherlands for the arbitration of commercial disputes. While NAI arbitration is the dispute resolution mechanism of choice of many Dutch corporations and public entities, it is increasingly agreed on by foreign parties selecting the Netherlands as a neutral venue for their potential disputes. This excellent volume, a rule-by-rule guide to the NAI Arbitration Rules, is not only the first such handbook in English, but the most comprehensive and detailed in any language. In addition, it provides a unique commentary in English on important elements of Dutch arbitration law.
Drawing on case law from arbitral tribunals and state courts and on extensive personal experience, members of the arbitration team of the Dutch law firm De Brauw Blackstone Westbroek N.V. provide in-depth commentary on each provision of the NAI Arbitration Rules and on arbitration-related court proceedings in the Netherlands under the Dutch Arbitration Act. Focusing on disputes arising from (among others) share purchase agreements, joint venture agreements, licence agreements, franchise agreements, finance agreements, contractor agreements, distribution agreements, and agreements for the sale of goods
The provision-by-provision analysis also compares the NAI Rules with both relevant proceedings in the Dutch state courts and, inter alia, ICC and UNCITRAL Arbitration Rules and to practice under such other rules.
The authors of this matchless book have faced many questions on the NAI Arbitration Rules, advised on the interpretation and correct application of those Rules, and defended such interpretation before tribunals and courts. In this book they share their experience, insights, and expertise. Counsel for corporate clients and public entities contemplating arbitration proceedings – as well as counsel to parties in NAI proceedings or related court proceedings – will find here an incomparable guide to the NAI system and Dutch arbitration law.