International Commercial Arbitration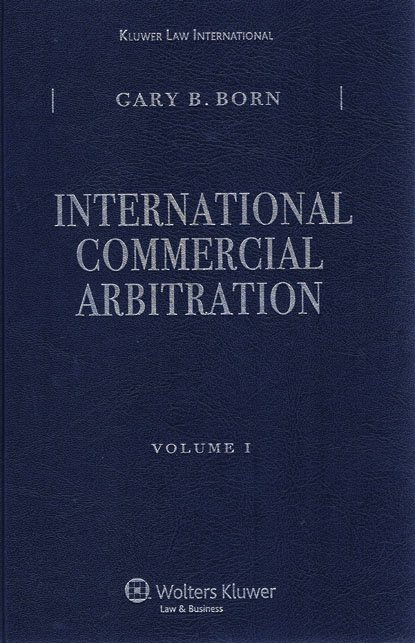 ISBN13: 9789041127594
Published: January 2009
Publisher: Kluwer Law International
Country of Publication: Netherlands
Format: Hardback, 2 volumes
Price: Out of print

Gary Born's International Commercial Arbitration is an authoritative 3,200 page treatise, in two volumes, providing the most complete available commentary and analysis on all aspects of the international commercial arbitration process.
International Commercial Arbitration was recently voted the International Dispute Resolution Book of the Year by the Oil, Gas, Energy, Mining and Infrastructure Dispute Management list serve. OGEMID described Born's treatise as a "masterful treatise from a masterful mind."
International Commercial Arbitration comprehensively examines the constitutional framework of contemporary international commercial arbitration, thoroughly explicating all relevant conventions, statutes, and institutional rules and their interactions in dozens of jurisdictions worldwide.
All practitioners, academics and users of international commercial arbitration – whether they need a systematic exposition of how all the 'pieces fit together', or detailed clarification of specific issues, or a basis on which to develop strategies – will find clear and authoritative guidance in this work.
Reviewers have described International Commercial Arbitration as "the definitive text on international arbitration" and a "magisterial exposition of international arbitration, which is stunning in its scope and comprehensiveness."
Divided into three main parts, International Commercial Arbitration focuses on: International Arbitration Agreements, International Arbitral Procedures and International Arbitral Awards. Topics covered include:-
The separability of the arbitration agreement;
Choice of law governing the arbitration agreement;
Formation and validity of the arbitration agreement;
Effects and interpretation of international arbitration agreements;
Arbitral procedures, consolidation and joinder;
Confidentiality;
Selection of arbitrators and arbitral seats;
Challenge of arbitrators;
Choice of substantive and procedural laws;
Rights and duties of arbitrators;
Ethical issues and representation in arbitration;
Form and content of arbitral awards, correction of awards;
Annulment of awards;
Recognition and non-recognition of awards; and
Issues of preclusion and lis pendens. Gary Born is one of the world's leading authorities on international arbitration and litigation. He is the author of International Civil Litigation in United States Courts (4th ed. 2007), International Arbitration Agreements and Forum Selection Clauses: Drafting and Enforcing (3d ed. 2010), and numerous other publications in the international litigation and arbitration fields.