European Public Procurement Law: Part II Remedies - European Public Procurement Remedies Directives and Jurisprudence by the Court of Justice of the European Communities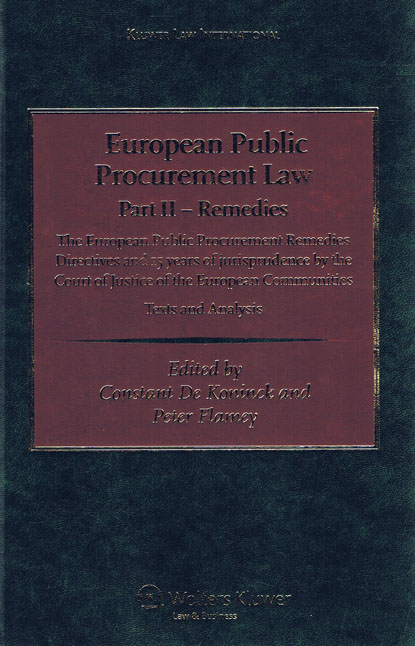 ISBN13: 9789041128423
Published: June 2009
Publisher: Kluwer Law International
Country of Publication: The Netherlands
Format: Hardback
Price: £178.00

Despatched in 8 to 10 days.
EPPL Part 1
Following the highly user-friendly approach of its Part I predecessor – which cited and analyzed the Court of Justice's case law concerning the substantive EU procurement rules laid down in the Public Sector Directive and the Utilities Directives – this book combines and links the full texts of the procurement remedies directives with 31 pertinent judgements issued by the Court of Justice of the European Communities.
In one easy-to-use volume this book provides:
full texts of the the Public Sector Remedies Directive and the Utilities Remedies Directive, with the articles of these directives linked to the relevant Court of Justice case law;
in-depth analysis of 31 judgements rendered by the Court of Justice in the period 1993–2008 in connection with subject matter treated by the articles of the two directives;
expert discussion of major innovations introduced by Amending Directive 2007/66/EC, with analysis of its ratio legis and full text;
essential excerpts from the chronologically ordered judgments, with each excerpt preceded by an overview of the subject matter and points of law treated in the judgment;
pertinent passages of the opinions of the Advocate General;
and an exhaustive subject index.
By thus combining the theory and reality of European procurement law the book not only saves readers time and effort, but also provides profound and practical insight into the Remedies Directives and the important rights and obligations which they create.
The pursuit of remedies for breaches of the EU procurement rules is a topic of high interest to public authorities and their suppliers, contractors and service providers across Europe. This book will be of great value to practitioners and to officials charged with ensuring that decisions taken by the public contracting authorities and entities may be reviewed effectively and rapidly, thus building confidence among businesses and the public that public procurement procedures are fair.