Securing Private Communications. Protecting Private Communications Security in EU Law: Fundamental Rights, Functional Value Chains and Market Incentives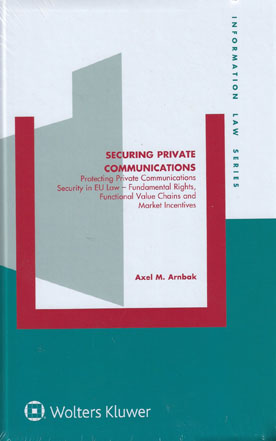 ISBN13: 9789041167378
Published: July 2016
Publisher: Kluwer Law International
Country of Publication: The Netherlands
Format: Hardback
Price: £112.00

Securing Private Communications. Protecting Private Communications Security in EU Law: Fundamental Rights, Functional Value Chains and Market Incentives, offers a conceptual and legislative toolkit that helps in building a step-by-step regulatory model in EU law.
This book argues for a stricter stance on protecting private communications security. Increasingly, it has become clear that any communicative act online is subject to breach by intelligence agencies, cybercriminals, advertising networks, employers, and corporate data miners, to mention the most obvious intruders.
Internet users, seeing no other choice than to hop onto the web-based bandwagon, have come to depend on a networked communications environment that is fundamentally insecure. Now lawmakers, worldwide, are gearing up to intervene.
What's in this book:-
From the interlocking perspectives of fundamental rights, systems design, and political organization, the author examines such salient issues as the following:-
the history of EU communications security law;
why systems fail;
whether communications markets on their own produce security;
the regulatory strategies of deterrence and protection;
the emergence of a fundamental right to data security.
This book provides a comprehensive overview of the current European regulatory framework on communications security and offers a multidisciplinary study on EU communications security law. The history of the past 25 years of EU communications security law is analyzed in-depth.
The regulatory model proposed is tested on HTTPS, which covers the user–provider relationship in web browsing, and on 'cloud' communications that affect interdomain and intradomain communications. Case studies included in the book are based on the infamous DigiNotar breach and the MUSCULAR program, disclosed by whistle-blower Edward Snowden, and contain original legal, security economic, and computer science research, conducted jointly with scholars trained in these disciplines.
How will this help you:
Responding to a generally positive outlook of the human right to communications security that is emerging from European fundamental rights law, this book not only provides one of the first interdisciplinary studies to appear in existing academic literature on EU communications security law, but also offers broad recommendations to the EU lawmaker and gives directions for future research.
This book shows how to balance fundamental rights, systems design, and political organization in communications security regulation by presenting a detailed model, drawing on relevant work in information law, policymaking, computer science, economics, philosophy, and political science. It offers a viable analysis on the market incentives of communications providers to produce communications security.
The book is sure to become a first point of discussion, reference, and legislative action for policymakers and practitioners in Europe and beyond.