Landmark Trademark Cases in China: An In-depth Analysis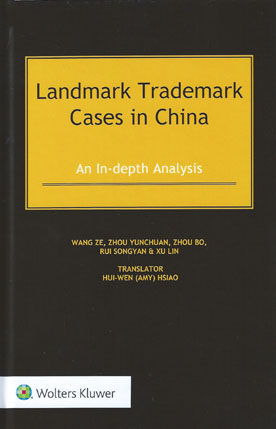 ISBN13: 9789041168368
Published: June 2017
Publisher: Kluwer Law International
Country of Publication: The Netherlands
Format: Hardback
Price: £185.00

Landmark Trademark Cases in China is the single indispensable source on Chinese trademark law for non-Chinese intellectual property professionals with its detailed descriptions and analyses of twenty-six landmark cases located in the context of the overarching system.
For fifteen consecutive years, China has received and processed more trademark filings than any other country; the number of trademarks filed in China in 2015 alone was three times that of the combined trademark filings made in the United States (second place) and the European Union (third place).
Yet until the appearance of this crucially important book – hugely influential in China and now superbly translated – there has been no systematic coverage in English of Chinese administrative and judicial case law on trademarks.
What's in this book:-
The authors – all five seasoned judges or officials in the trademark system – provide a thorough and in-depth exploration of China's trademark law, covering such aspects as the following:-
absolute and relative grounds of trademark registrability;
dual-track system of administrative enforcement and judicial protection;
well-known trademark protection;
defenses in trademark infringement cases;
damage determination in a trademark infringement lawsuit;
third party's prior rights;
personal name similarity;
resolution mechanism for conflicts and disputes;
time limit to challenge a trademark assignment; and
trademark squatting.
The analysis of each case clearly illustrates how trademarks are acquired, maintained, cancelled, invalidated, and protected in China. Prior to diving into these cases, an introductory chapter provides a brief history of China's trademark system and describes the three amendments to the Trademark Law (1993, 2001, and 2013) and the impact made by each.
How this will help you:-
Enormously useful as a practical guide showing brand owners how to survive and prosper in China, this book definitively provides the basic professional material to understand the Chinese trademark system. Jurists and academics worldwide will welcome its appearance in English.
Furthermore, this book will prove invaluable to counsel of transnational corporations and trademark law practitioners and is sure to become a cornerstone resource.