Rules of Engagement: Trademark Strategies, Protection and Enforcement in China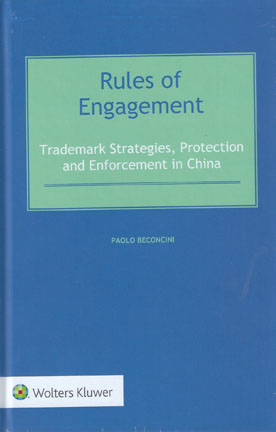 ISBN13: 9789041182548
Published: October 2016
Publisher: Kluwer Law International
Country of Publication: The Netherlands
Format: Hardback
Price: £151.00

China now leads the world in number of registered trademarks. In recent years, however, higher volumes of enforcement have not brought about the end of trademark theft and counterfeiting.
Consequently, most Westerners doing business in China (or preparing to do so) have negative views of the country's system of intellectual property rights. This powerful book, by the world's most experienced authority on how law and business interact in China's trademark context, provides deeply informed and positive guidance for foreign brand owners seeking strategies that realistically engage with the Chinese legal and business landscape, thus showing how to reduce risk and benefit from the actually existing system.
The author sets forth "rules of engagement" – strategic rules of conduct that provide guidance as to how to learn, understand, and approach trademark challenges in China in an objective manner. Issues and topics covered include the following:-
acquisition of trademark rights in China;
infringement of trademark rights and claim basis;
preparatory investigation and case build-up;
available enforcement tools and procedures;
remedial strategies responding to trademark theft; •evidentiary burdens in proving infringement;
geographic location and specific characteristics of counterfeiting hubs;
privileged relations between investigative companies and enforcing authorities; and
increasing presence of online professional trademark thieves.
Detailed discussion of a number of cases (in fields including automotive, clothing, wine, pharmaceuticals, electronic devices, and sports apparel) isolate certain common patterns and prove that, aside from certain malfunctions of the trademark system, a substantial amount of responsibility for failure can be laid with the brands and not with China's enforcement authorities.
With its comprehensive strategic approaches to dealing with trademark protection and enforcement in China, and its challenges to common legal thinking in the field, this book proposes and delivers new creative strategic solutions to unresolved problems related to trademarks in China.
Interested lawyers and business persons can use the revelations about how anti-counterfeiting really works in China to help China bring about a change in the way state bodies enforce trademark rights. With the use of this book, lawyers counseling and advising clients on their China trademark portfolios and trademark protection strategies will bring great advantage to the brands they serve.