Remedies Concerning Enforcement of Foreign Judgments: Brussels I Recast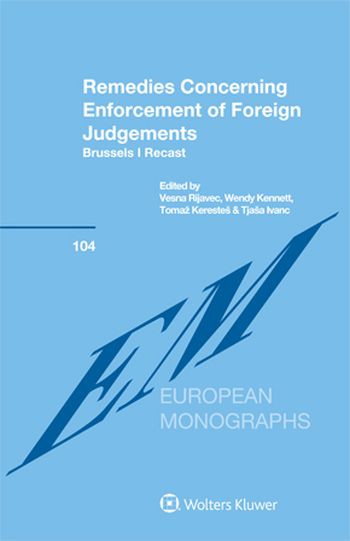 ISBN13: 9789041194169
Published: September 2018
Publisher: Kluwer Law International
Country of Publication: The Netherlands
Format: Hardcover
Price: £123.00

Despatched in 2 to 4 days.
Remedies Concerning Enforcement of Foreign Judgements According to Brussels I Recast addresses the most urgent questions related to the remedies against foreign judgments in cross-border enforcement under Brussels I Recast. (Regulation No 1215/2012 on the recognition and enforcement of judgments in civil and commercial matters.) Brussels I Recast is intended to simplify and expedite cross-border enforcement of debts. However, some existing issues remain unresolved, and new ones have already been identified since the Regulation entered into force in 2015. This collection of expert essays, the first book to focus systematically and comprehensively on remedies in the light of Brussels I Recast, examines inherent problems and includes practical hypothetical cases illustrating major issues and how they may be resolved. The in-depth analyses conducted by the contributors clearly define serious obstacles and propose solutions that will lead to better implementation of Brussels I Recast, better protection of party's rights, and further harmonization in this field of civil justice.
What's in this book:
The aspects covered by the contributors – all well-known academics, lawyers, and judges from different EU Member States – include the following:
grounds for refusal of recognition and enforcement;
certification of enforceability and timely service of the certificate;
adaptation of enforcement measures that are determined in the judgment but are not known in the Member State of enforcement;
effect of requesting a translation of the judgment;
financial implications of remedies; and
provisional measures and their role in a timely protection of rights.

Because the success of Brussels I Recast depends on a very unpredictable implementation into national systems, the extent to which national barriers represent obstacles to fair and efficient judicial protection is thoroughly analysed. A very useful concluding chapter presents practical cases highlighting the most important, as well as problematic, issues concerning enforcement of foreign judgments.

How this will help you:

As a discussion on the implementation of recently adopted Brussels I Recast, its implications, obstacles to successful use, and possible measures, this book helps the readers deal with conflicting or unknown foreign provisions confidently. Thus this book serves as a guide to multinational enterprises, EU and Member State legislators, enforcement agencies, and academics to help them gain information on good practices that could be universally implemented to facilitate better and more efficient judicial cooperation in civil matters in the EU.