European SPCs Unraveled: A Practitioner's Guide to Supplementary Protection Certificates in Europe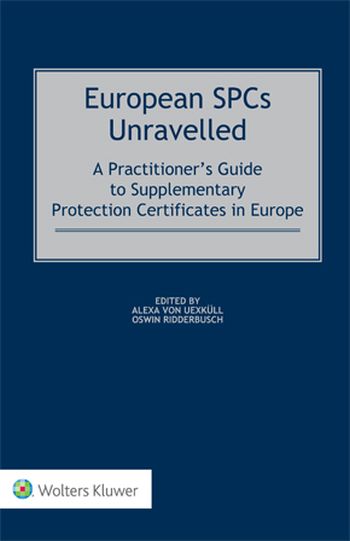 ISBN13: 9789041199959
Published: November 2018
Publisher: Clearance
Country of Publication: The Netherlands
Format: Hardback
Price: £75.00
(Second Hand)

European SPCs Unravelled provides an easily accessible overview of SPC law in Europe through a practice-oriented approach. While SPCs are governed by the same substantive rules in all Member States of the European Union and the European Economic Area, they are national IP rights. The formal requirements and procedural practices of the national patent offices granting SPCs still differ significantly, and these divergences can have a substantial impact in the prosecution of SPCs across Europe. This book covers all substantive and procedural aspects of prosecution, enforcement, and invalidation, as well as SPC-related aspects of unfair competition law across European jurisdictions.
What's in this book:
Following an overarching European chapter, which addresses general considerations and the relevant European Union law, including the jurisprudence of the Court of Justice (CJEU) and the EFTA Court, this book contains separate national chapters for eleven key jurisdictions ¿ i.e., Germany, the United Kingdom, France, the Netherlands, Belgium, Italy, Spain, Portugal, Sweden, Iceland, and Switzerland, as well as a concluding chapter summarizing the fundamentals of SPC law and practice in sixteen further European countries. The contributors to this book, all experts in the field of SPCs in their respective jurisdictions, provide clear and hands-on guidance on a range of specific topics of practical and strategic relevance, including:
What is or is not an 'active ingredient' amenable to SPC protection?
What is required for an active ingredient to be 'protected' by a basic patent?
What relevance has the 'core inventive advance' of the basic patent?
Can SPCs be obtained for 'loose' combinations of separately formulated active ingredients?
Which basic patent should be chosen for an SPC filing?
Which types of marketing authorizations can be relied upon?
Under which conditions can SPCs be obtained for a new specific salt, ester, or other derivative of a previously approved active ingredient, for a new specific enantiomer of a previously approved racemate, and for new therapeutic applications of previously approved active ingredients?
Can affiliated companies obtain several SPCs for the same product?
Does the revocation of an SPC enable the filing of a new SPC for the same product?
What are the limits to the filing of 'unfriendly' SPCs based on third-party marketing authorizations?
What relevance does the product definition of an SPC have for its scope of protection?
What is the scope of protection of an SPC in relation to derivatives of an active ingredient?
How is the SPC term calculated, and how can an erroneous term be corrected?
How can SPCs and paediatric extensions be invalidated and which grounds of invalidity can be invoked?
What pitfalls must be avoided in terms of unfair competition law?
How this will help you:
As the chapters are structured from the perspective of practitioners, this book provides answers to the frequently raised problems concerning SPCs. This approach distinguishes this book from other commentaries and thereby serves as invaluable assistance to IP practitioners in devising successful pan-European SPC filing strategies. Its country-by-country format makes it easy to compare the national practices and the respective national case law of the different European countries.