India: The Business Opportunity - A Practical Legal and Regulatory Handbook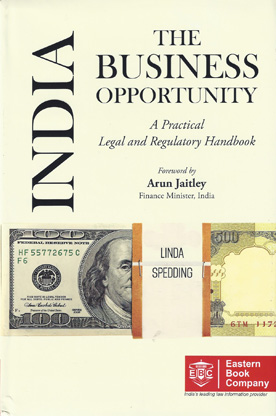 ISBN13: 9789351453918
Published: April 2016
Publisher: Eastern Book Company (India)
Country of Publication: India
Format: Hardback + Online Access
Price: £150.00

The book India: The Business Opportunity highlights in eighteen chapters what every business entity must know to successfully enter and compete in one of the world's fastest-growing large economies.
The potential opportunity in India is huge: it is home to a quarter of the world's population, with a lively, cash-rich and rapidly expanding consumer class and relaxed regulatory restraints have opened India up to unprecedented levels of foreign investment.
This book will help multinational corporations and the managers who work in them understand the implications of India's current stage of development and develop strategies for effectively competing in this environment.
In any jurisdiction to start and run a business successfully, several kinds of compliance with authorities are required. An in-depth understanding of the legal and regulatory framework of a given jurisdiction is a certain help for commencing a business.
This book covers the entire legal and regulatory framework that a business entity has to understand, negotiate and comply for doing business in India. Issues of foreign investment regulations, reputation risks management, mergers and acquisitions, debt financing, corporate governance, labour, intellectual property rights, environment, taxation, competition law, arbitration, etc. have been thoroughly explained. Each chapter has been written by an expert in that area and acts as a useful living tool rather than just theoretical text.
Free additional resources and updates: EBC Explorer (www.ebcexplorer.com) provides free online access to links referred to in the book, articles, updates, a discussion forum and host of other free resources.