Does the Law of Succession Reflect Cultural Differences?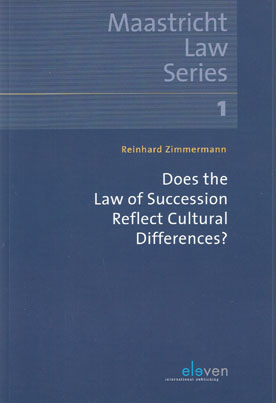 ISBN13: 9789462368569
Published: April 2018
Publisher: Eleven International Publishing
Country of Publication: The Netherlands
Format: Paperback (34 Pages)
Price: £21.00

Despatched in 4 to 6 days.
This is the published version of the first Maastricht Private Law Lecture which was delivered by Reinhard Zimmermann on 27 January 2017.
According to a widely held view, the law of succession is shaped by the cultural values of the society within which it prevails. Related to this is the perception that the law of succession is marked by great stability. It is thus resistant both to change and to legal harmonization. Comparative research, too, has traditionally been regarded as impractical and unrewarding.
In his lecture Zimmermann challenges this view. He points to transsystemic constants as well as transsystemic tendencies of development, to outdated peculiarities and thinking patterns as well as to the benefits to be gained by critical reflection, and he analyses historical examples of the phenomenon of legal charge and the reception of rules and ideas.
The focus is, throughout, on two central problem areas within the province of the law of succession: testamentary formalities and the intestate succession regime. Insofar as it obstructs or prevents a critical comparative discourse in this field, the `legal culture' thesis, according to Zimmermann, must be rejected.