Harney Westwood & Riegels: British Virgin Islands Commercial Law 4th ed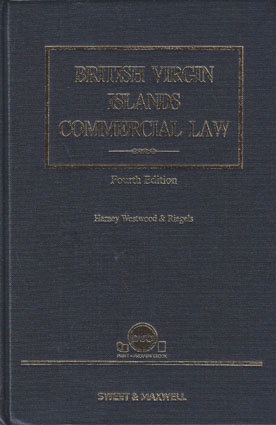 ISBN13: 9789626619766
Published: July 2018
Publisher: Sweet & Maxwell Hong Kong
Country of Publication: Hong Kong
Format: Hardback
Price: £493.71

British Virgin Islands Commercial Law is the only publication that focuses exclusively on the British Virgin Islands.
The book provides a deep analytical view of the offshore jurisdiction's legal landscape as it relates to companies, partnerships, credit and security, mutual funds, insolvency, dispute resolution, taxation, trusts and more.
This new edition continues to follow the major changes which have occurred as a result of the BVI Business Companies (Amendment) Acts of 2015 and 2016 which are now in force along with the new BVI Business Companies Regulations.
The examination of these major changes and incorporation of new legal developments, plus the inclusion of a brand new chapter on BVI Insurance Law makes this edition a must-have for anyone with interests in BVI law and practice.
Approximately 40% of the content has been updated from the previous edition - Keeping you abreast of one of the world's fastest developing jurisdictions, including:-
Review and analysis of the new BVI laws and regulations on the companies and financial regimes
Analysis of key appellate court decisions
Examination of the new regulatory guidance provided by the BVI Financial Services Commission regarding money services
A brand new chapter on BVI Insurance Law
Review of the recent changes to the BVI Business Companies Act
Analysis of the new Limited Partnership Act
Examination of the BVI's new beneficial ownership regime