All England Law Reports: Commercial Cases - Parts and Bound Volume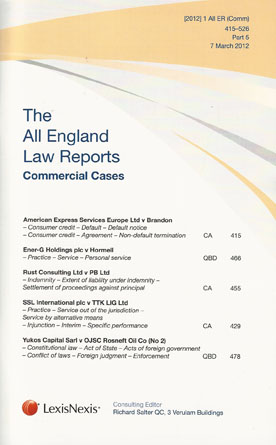 ISBN13: AECC
Latest Release: May 07, 2021
Publisher: LexisNexis Subscriptions
Country of Publication: UK
Format: Law Reports + Bound Volume
Price: £1365.99

Subscription Type: Annual Subscription
Domestic Renewal Price: £1365.99
Usually despatched in 1 to 3 weeks.
First published in 1999, the All England Commercial Cases publishes Supreme Court, Privy Council, Court of Appeal, High Court and European Court of Justice judgments on contract, insurance, banking, shipping and all other areas of commercial law. It is published in 24 loose parts a year, making up two bound volumes. Subscribers receive both fortnightly parts and bound volumes.
Cases are presented with catchwords and headnotes summarising the judgments with clarity and accuracy in the long-established All England style. Cross-references are given to other major legal works such as Halsbury's Laws and Halsbury's Statutes.
Proofs of all High Court and Court of Appeal judgments reported are approved by the appropriate judges before publication.