Legalist Empire: International Law and American Foreign Relations in the Early Twentieth Century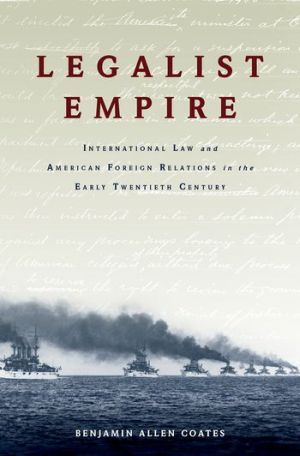 ISBN13: 9780190055585
Published: April 2019
Publisher: Oxford University Press USA
Country of Publication: USA
Format: Paperback (Hardback in 2016)
Price: £18.99

Despatched in 8 to 10 days.
After 1898 the United States not only solidified its position as an economic colossus, but by annexing Puerto Rico and the Philippines it had also added for the first time semi-permanent, heavily populated colonies unlikely ever to attain statehood.
In short order followed a formal protectorate over Cuba, the "taking" of Panama to build a canal, and the announcement of a new Corollary to the Monroe Doctrine, proclaiming an American duty to "police" the hemisphere. Empire had been an American practice since the nation's founding, but the new policies were understood as departures from traditional methods of territorial expansion.
How to match these actions with traditional non-entanglement constituted the central preoccupation of U.S. foreign relations in the early twentieth century. International lawyers proposed instead that the United States become an impartial judge. By becoming a force for law in the world, America could reconcile its republican ideological tradition with a desire to rank with the Great Powers. Lawyers' message scaled new heights of popularity in the first decade and a half of the twentieth century as a true profession of international law emerged.
The American Society of International Law (ASIL) and other groups, backed by the wealth of the Carnegie Endowment for International Peace, held annual meetings and published journals. They called for the creation of an international court, the holding of regular conferences to codify the rules of law, and the education of public opinion as to the proper rights and duties of states.
To an extent unmatched before or since, the U.S. government-the executive branch if not always the U.S. Senate-embraced this project. Washington called for peace conferences and pushed for the creation of a true international court. It proposed legal institutions to preserve order in its hemisphere. Meanwhile lawyers advised presidents and made policy. The ASIL counted among its first members every living secretary of state (but one) who held office between 1892 and 1920. Growing numbers of international lawyers populated the State Department and represented U.S. corporations with business overseas.
International lawyers were not isolated idealists operating from the sidelines. Well-connected, well-respected, and well-compensated, they formed an integral part of the foreign policy establishment that built and policed an expanding empire.