Remedies for Breach of Contract in Asia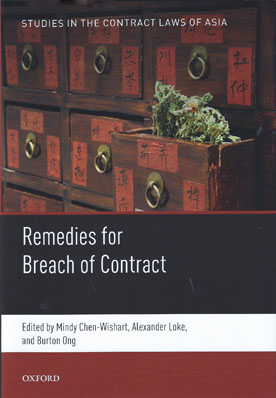 ISBN13: 9780198757221
Published: February 2016
Publisher: Oxford University Press
Country of Publication: UK
Format: Hardback
Price: £122.50

Despatched in 5 to 7 days.
Studies in the Contract Laws of Asia provides an authoritative account of the contract law regimes of selected Asian jurisdictions, including the major centres of commerce where until now, limited critical commentaries have been available in the English language.
In this new six part series of scholarly essays from leading scholars and commentators, each volume will offer an insider's perspective into specific areas of contract law, including: remedies, formation, parties, contents, vitiating factors, change of circumstances, illegality, and public policy, and will explore how these diverse jurisdictions address common problems encountered in contractual disputes.
Concluding each volume will be a closing discussion of the convergences and divergences throughout eachacross the jurisdictions, and comparisons with European jurisdictions from which Asians well as an overview of the common themes found throughout each jurisdiction .contract law derive.
Volume I of this series examines the remedies for breach of contract in the laws of China, India, Japan, Korea, Taiwan, Singapore, Malaysia, Hong Kong, Korea, and Thailand. Specifically, it addresses the readiness of each legal system in their action to insist that parties perform their obligations; the methods of enforcing the parties' agreed remedies for breach; and the ways in which monetary compensation are awarded.
Each jurisdiction is discussed over two chapters; the first chapter will examine the performance remedies and agreed remedies, while the second explores the monetary remedies. A concluding chapter offers a comparative overview.
Planned topics for future volumes are:-
Volume 2: Formation of Contract and Third Party Beneficiaries
Volume 3: Contents of Contract and Unfair Terms
Volume 4: Invalidity of Contract
Volume 5: Ending and Changing Contracts
Volume 6: Public Policy and Illegality
Publication dates are not set for these volumes.