The Law of Security and Title-Based Finance 3rd ed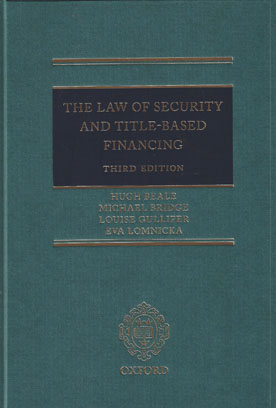 ISBN13: 9780198795568
Published: March 2018
Publisher: Oxford University Press
Country of Publication: UK
Format: Hardback
Price: £415.00

Personal property security is an important subject in commercial practice as it is the key to much of the law of banking and sale. This book examines traditional methods of securing debts (such as mortgages, charges and pledges) on property other than land, describing how these are created, how they must be registered (or otherwise 'perfected') if they are to be valid, the rights and duties of the parties and how the security is enforced if the debt is not paid.
The third edition has been updated to cover a wealth of cases which have been decided since the last edition. These include new cases on: control of financial collateral, and relief against forfeiture under a financial collateral arrangement; retention of title (including the effect of "extended" clauses); estoppel and the HPI register; availability of set-off against assignee; a number of cases on enforcement of security; equitable liens; solicitor's liens and databases; on priority or purchase money security interests; and the Irish Supreme Court decision on floating charge and crystallisation.
The effect of key legislative changes have also been analysed and these include the 2013 amendments to the Companies Act 2006 Part 25, and issues post-ratification relating to the Cape Town Convention.
The only full-length treatment covering both traditional security over personal property and also devices that fulfil a similar economic function, such as retention of title and sales of receivables, The Law of Security and Title-Based Financing is a frequently-cited and indispensable reference work both for practitioners and academics.