The Law of Security and Title-Based Finance 2nd ed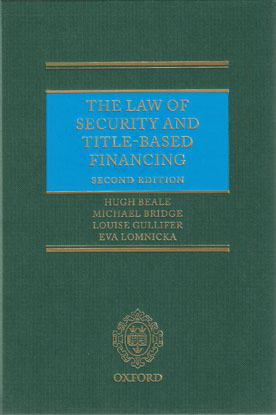 ISBN13: 9780199608720
Published: March 2012
Publisher: Oxford University Press
Country of Publication: UK
Format: Hardback
Price: Out of print

Personal property security is an important subject in commercial practice, as it is the key to much of the law of banking and sale.
This second edition has been fully updated and expanded to cover all important issues and changes within this highly complex area of law. It explains traditional methods of securing debts (such as mortgages, charges, and pledges) on property other than land, describing how these are created, how they must be registered (or otherwise 'perfected') if they are to be valid, the rights and duties of the parties, and how the security is enforced if the debt is not paid.
The new edition includes an expanded section on priorities in which it explains how 'priority' disputes between competing interests over the same property are resolved. In addition the book covers the law governing other transactions that perform a similar economic function (such as finance leases, retention of title clauses, and sales of a company's book debts).
These are not currently treated by the law as security and are therefore subject to different rules on perfection, priority, and enforcement. There is much expansion of the discussion relating to enforcement including the issue of 'right of use' following Lehman, more analysis on administration and all forms of non-possessory security and quasi-security, and a new chapter on enforcement of security addressing the right of appropriation under FC/FCAR and the Cukurova case.
The conflict of laws section includes developments under the Rome I Regulation affecting assignment issues, the UNIDROIT Convention 2009 in relation to tiered holdings and the Cape Town Convention's extensions made to coverage of asset-backed security over equipment. It also addresses the changes brought about by the abolition of Slavenburg registration.
This edition contains relevant points from the Banking Act 2009 concerning its impact on security, such as the power to protect certain interests on a transfer of property, and also considers amendments regarding liquidators' expenses under the Insolvency Rules. The authors additionally deal with the role of step-in rights and why they are part of the statutory definition of project finance in the Enterprise Act.
Previously published as The Law of Personal Property Security, this new edition brings together all of the law on this complex area, providing guidance in the context of commercial practice, especially with increased coverage of conflict of laws, priority, insolvency, and enforcement.