Claims to Traceable Proceeds: Law, Equity, and the Control of Assets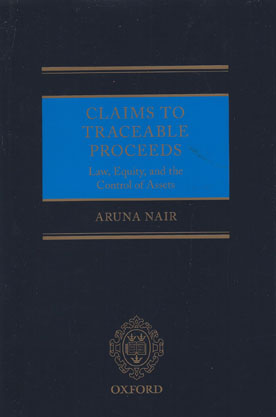 ISBN13: 9780198813408
Published: March 2018
Publisher: Oxford University Press
Country of Publication: UK
Format: Hardback
Price: £74.00

In this new book, Aruna Nair sets out her arguments for a re-evaluation of the law of tracing. A new model of the law of tracing is proposed and the book demonstrates how current problems can be solved using this new model.
The rules of tracing are not shown not to be pure rules of evidence, aimed at resolving factual uncertainties; rather, they are explained as substantive rules of law, delineating the scope of a defendant's legal responsibility to a claimant.
The book draws out the practical implications of this theoretical model, showing how a focus on defendant autonomy and claimant vulnerability can both explain the current state of English law and provide a critical perspective on potential future developments.
The first part of the book considers the nature of tracing, providing an overview of the analytical and doctrinal questions raised by the current law, re-framing the dominant 'value' account of tracing, and proposing a new model which can solve problems in the current law.
The second part of the book focusses on circumstances in which the tracing remedy is available to a claimant, demonstrating the practical application of such claims to specific problems.