A Cosmopolitan Legal Order: Kant, Constitutional Justice, and the European Convention on Human Rights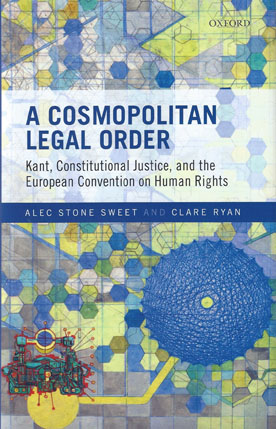 ISBN13: 9780198825357
To be Published: May 2021
Publisher: Oxford University Press
Country of Publication: UK
Format: Paperback (Hardback in2018)
Price: £24.95

In this book, Stone Sweet and Ryan provide an accessible introduction to Kantian constitutional theory and the law and politics of European rights protection.
Part I sets out Kant's blueprint for achieving Perpetual Peace and constitutional justice within and beyond the nation state. Part II applies these ideas to explain the gradual constitutionalization of a Cosmopolitan Legal Order: a transnational legal system in which justiciable rights are held by individuals; where public officials bear the obligation to fulfil the fundamental rights of all who come within the scope of their jurisdiction; and where domestic and transnational judges supervise how officials act.
Such an order was instantiated in Europe through the combined effects of Protocol no. 11 (1998) to the ECHR and the incorporation of the Convention into national law. The authors then describe and assess the strengthening of the European Court's capacities to meet the challenge of chronic failures of protection at the domestic level; its progressive approach to the "qualified" rights covering privacy and family life, and the freedoms of expression, conscience, and religion; the robust enforcement of the "absolute" rights, including the prohibition of torture and inhuman treatment; and its determined efforts to render justice to all people that come under its jurisdiction, including non-citizens whose rights are violated beyond Europe.
Today, the Strasbourg Court is the most active and important rights-protecting court in the world, its jurisprudence a catalyst for the construction of a cosmopolitan constitution in Europe and beyond.