Rethinking Participation in Global Governance: Challenges and Reforms in Financial and Health Institutions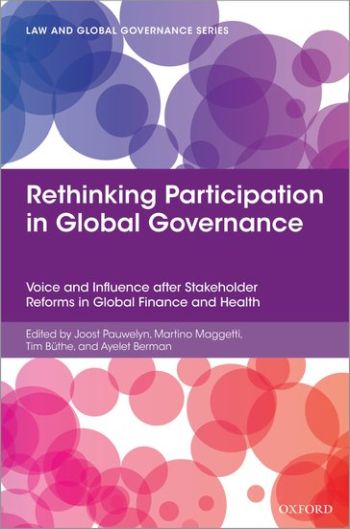 ISBN13: 9780198852568
Published: June 2022
Publisher: Oxford University Press
Country of Publication: UK
Format: Hardback
Price: £80.00

Despatched in 5 to 7 days.
International organizations and other global governance bodies often make rules and decisions without input from many of the individuals, groups, firms, and governments that are affected by them. The standards of the Basel Committee on Banking Supervision, for instance, developed by a small number of states, govern financial markets and the safety of bank deposits in over a hundred jurisdictions. Historically, the interests of developing countries, as well as non-commercial and diffuse interests within countries, have been excluded or disregarded in global governance. Scholars and practitioners have criticised this democratic deficit and called for greater participation of such marginalized stakeholders. Against this background, international institutions have introduced a variety of reforms with the goal of increasing and facilitating the participation of these excluded stakeholders.
This book brings together an expert group of scholars and practitioners to investigate the consequences of stakeholder participation reforms in the global governance of health and finance: What reforms have been introduced? Have these reforms given previously marginalized stakeholders a voice in global governance bodies? What effect have these reforms had on the legitimacy and effectiveness of global governance? To answer these questions, the book examines treaty-based intergovernmental organizations alongside newer forms of global governance such as trans-governmental regulatory networks, multi-stakeholder partnerships, and private standard setting bodies. Through a series of paired comparative analyses, the book provides insights into the experiences of large emerging and smaller or lower income developing countries (Brazil v. Argentina, China v. Vietnam, India v. the Philippines) in a diverse set of organizations, including the World Bank and the World Health Organization, the Basel Committee on Banking Supervision, the Global Fund to Fight AIDS, Tuberculosis and Malaria, the International Accounting Standards Board, Codex Alimentarius Commission and more.