Judicial Review of Administration in Europe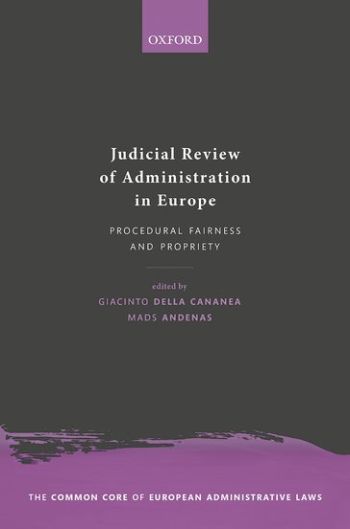 ISBN13: 9780198867609
Published: August 2021
Publisher: Oxford University Press
Country of Publication: UK
Format: Hardback
Price: £80.00

Despatched in 5 to 7 days.
This book is about judicial review of public administration. Many have regarded this to divide European legal orders, with judicial review of administrative action in the general courts or specialized administrative courts, or with different distance from the executive. There has been considerably less of comparison of the basic procedural and substantive principles. The comparative study in this book of procedural fairness and propriety in the courts reveals not only differences but also some common and connecting elements, in a 'common core' perspective.
The book is divided into four parts. The first explains the nature and purpose of a comparison to understand the relevance and significance of commonality and diversity between the legal systems of Europe, and which considers other legal systems which are distant and distinct from Europe, such as China and Latin America. The second part contains an overview of the systems of judicial review in these legal orders. The third part, which is the heart of the 'common core' method, contains both a set of hypothetical cases and the solutions, according to the experts of the legal systems selected for our comparison, to the cases. The fourth part serves to examine the answers in comparative terms to ascertain not so much whether a 'common core' exists, but how it is shaped and evolves, also in response to the influence of supranational legal orders as the European Union and the Council of Europe.