Applications to Wind Up Companies 2nd ed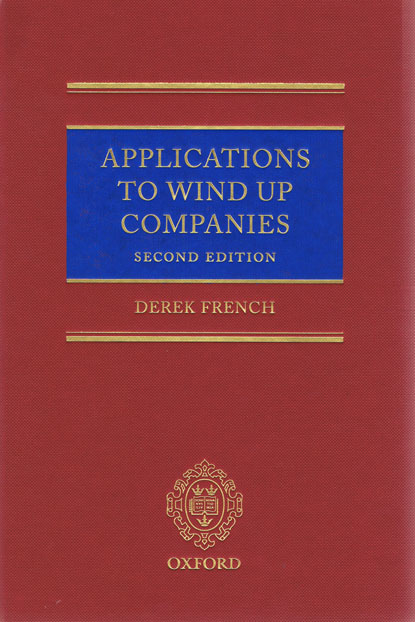 ISBN13: 9780199206896
Published: February 2008
Publisher: Oxford University Press
Country of Publication: UK
Format: Hardback
Price: Out of print

The second edition of Applications to Wind Up Companies provides practitioners with an up to date and in-depth treatment of the law and as such it is the only work to focus specifically on this aspect of corporate and insolvency law.
This long-awaited new edition deals with the procedure for obtaining a winding-up order chronologically from presentation of a petition through to making the order. It also looks at the application process as it applies to various classes of petitioner, such as creditors, contributories (shareholders) and public officials.
The book covers companies registered under the Companies Acts and all other entities, including insolvent partnerships and foreign companies, which may be wound up under the Insolvency Act 1986. It also deals with administration applications. Though focused on the procedure in the courts of England and Wales, the work also considers the jurisprudence of the many Commonwealth jurisdictions which have adopted the English procedure. A particular feature of the book is its analysis of the matters which are taken into account in the exercise of discretion, an aspect of the equitable jurisdiction applied to winding-up applications.
New to this edition:-
The first edition was published in 1993 and there have been numerous detailed changes in legislation since then, in addition to the new court rules and practice directions. The second edition takes account of all those changes. Over 1,500 additional cases are cited.
New features include coverage of administration applications, procedural summaries, inclusion of precedents, procedural checklists and extracts from relevant legislation.
The second edition benefits from the participation, as consultant editors, of Catherine Newman QC and Rebecca Stubbs who are both practising barristers, and Stuart Sime who lectures at the Inns of Court School of Law