Child Abuse: Law and Policy Across Boundaries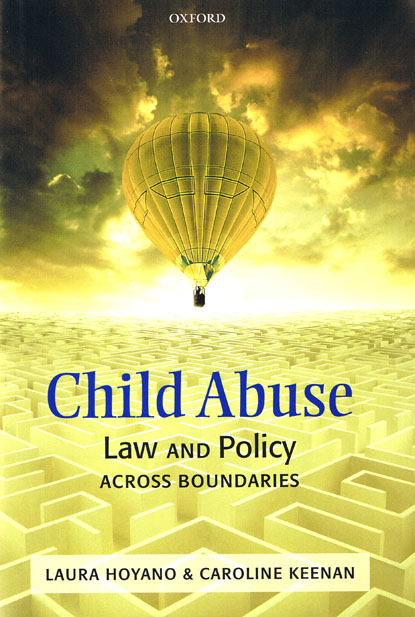 ISBN13: 9780199571567
Published: January 2010
Publisher: Oxford University Press
Country of Publication: UK
Format: Paperback (Hardback in 2007)
Price: £86.00

Despatched in 5 to 7 days.
Winner of the Inner Temple Book Prize 2008: Main Prize
Whilst there may be universal agreement that 'something must be done' about child abuse, there is much less clarity about what qualifies as child abuse and what should be done about it. Policy makers often invoke the law at times of crisis which are seen to demand a societal response. The presence of legislation on the statute book or the creation of rules and protocols which professionals must follow is one socially acceptable sign that the problem has been recognised and that an effective response has been implemented.
In the last two decades of the twentieth century, the numerous controversies about the response of public agencies and the courts to allegations of child abuse, as well as campaigns to reform the treatment of child witnesses in adversarial trial systems, provided the impetus for legal reform in both criminal and civil proceedings in England and Wales. These legal initiatives were ad hoc responses to specific problems, and not part of a coherent and integrated programme of reform across the criminal and civil systems. Legislators and the courts in family, criminal, and tort proceedings have constructed different liability and evidential rules in parallel rather than in tandem with the other courts adjudicating the same issues, and often regarding the same child. Similarly reforms in other common law jurisdictions have often been only partially understood by lawmakers in England and Wales.
This book looks across the legal and geographical boundaries within which the legal discussion of child abuse is usually confined. It considers the themes and policy considerations driving each form of legal response to the problem of child abuse. It also provides a detailed discussion of the law governing the trial of allegations of child abuse in the key areas of family, criminal and tort law in English law, and compares this with the approaches in other common law jurisdictions using the adversarial mode of trial, in particular in Canada, the United States, New Zealand and Australia. In its breadth and depth, Child Abuse Law and Policy Across Boundaries marks a significant contribution to the rapidly evolving field of child protection law.
Questions the assumption that 'black letter' law developments are always an appropriate response to child abuse
Charts legal initiatives and ad hoc developments to specific problems of child abuse
Comparative analysis of evidentiary and liability rules across other common law jurisdictions eg: Canada, US, New Zealand, and Australia
Discusses forms of legal response to child abuse beyond conventional legal and geographical boundaries
Interdisciplinary perspectives from family law, tort, criminal law, and rules of evidence
Contains diagrams mapping the complex evidential and liability rules in English statutes and case law, including the Special Measures Directions and sexual history provisions of the Youth Justice and Criminal Evidence Act 1999, and the character and hearsay provisions of the Criminal Justice Act 2003.