Corruption and Misuse of Public Office 2nd ed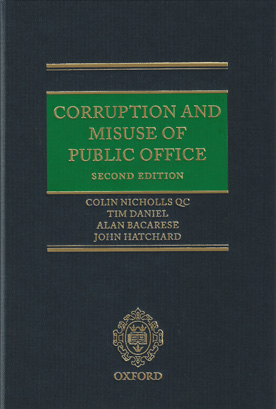 ISBN13: 9780199577279
Published: September 2011
Publisher: Oxford University Press
Country of Publication: UK
Format: Hardback
Price: Out of print

The law and practice relating to corruption and the misuse of public office is of increasing topical importance. The first edition of this book provided a comprehensive and detailed analysis of the law relating to corruption as it had been shaped over recent years.
This new edition covers all major developments since the publication of the first edition, including:-
the Bribery Act 2010;
the US Foreign Corrupt Practices Act;
the United Nations Convention Against Corruption;
current revision and implementation of anti-corruption legislation in a number of important jurisdictions;
and changes to the area of mutual legal assistance and civil recovery.
> Written by leading practitioners with extensive experience of handling corruption cases, the book provides a clear exposition of the current law. It examines the legal and practical issues relating to the investigation and prosecution of corruption cases and includes coverage of specialist areas such as recovering the proceeds of corruption, and whistleblowing.
Corruption cases often span jurisdictions. This book enables practitioners to handle any aspect of a corruption case by providing them with detailed analysis of the international efforts to combat corruption, and the legal developments taking place in key jurisdictions and regions covered by UN, EU, OECD, the Commonwealth, and important regional initiatives.