Hierarchy in International Law: The Place of Human Rights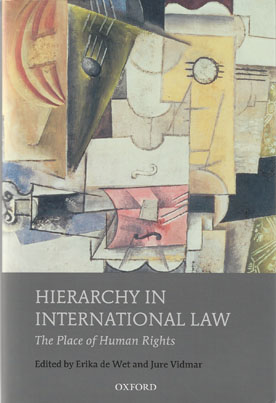 ISBN13: 9780199647071
Published: March 2012
Publisher: Oxford University Press
Country of Publication: UK
Format: Hardback
Price: £110.00

This book takes an inductive approach to the question of whether there is a hierarchy in international law, with human rights obligations trumping other duties.
It assesses the extent to which such a hierarchy can be said to exist through an analysis of the case law of national courts. Each chapter of the book examines domestic case law on an issue where human rights obligations conflict with another international law requirement, to see whether national courts gave precedence to human rights. If this is shown to be the case, it would lend support to the argument that the international legal order is moving toward a vertical legal system, with human rights at its apex.
In resolving conflicts between human rights obligations and other areas of international law, the practice of judicial bodies, both domestic and international, is crucial. Judicial practice indicates that norm conflicts typically manifest themselves in situations where human rights obligations are at odds with other international obligations, such as immunities; extradition and refoulement; trade and investment law; and environmental protection. This book sets out and analyses the relevant case law in all of these areas.